29 Cornelia Street, NYC 10014
212-989-9319
http://www.corneliastreetcafe.com
Music charge: $10

Elektra Kurtis - violin
Curtis Stewart - violin
Lefteris Bournias - clarinet
Brad Jones - bass
Kahlil Kwame Bell - drums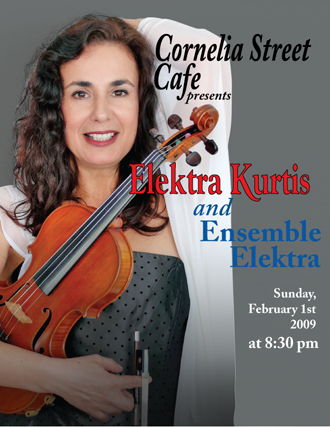 More info at :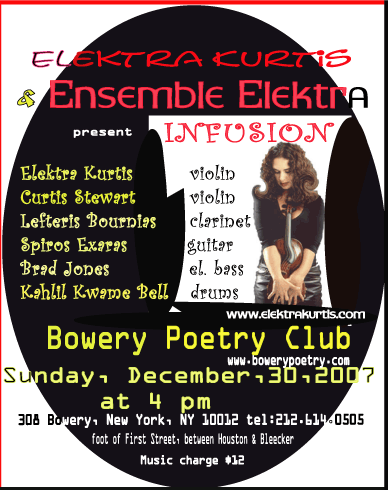 Infusion is a new music genre that mirrors the contemporary urban world. Elements from old cultures and contemporary music are absorbed and infused with music traditions from distant places, creating a mosaic of Old with New, Eastern with Western, Southern with Northern. In her music, Elektra Kurtis bridges these differences creating a unique new sound.

Musicians: Elektra Kurtis - violin and composition, Curtis Stewart - violin, Lefteris Bournias - clarinets, Spiros Exaras - guitar, Brad Jones - el. bass, Kahlil Kwame Bell - drums

Guest artisan Maria Santoro from Gitana Originals will be featuring fine, hand-crafted, one of a kind, designer jewlery
Cover charge $12

308 Bowery @ Houston Street, New York, NY 10012 between Houston and Bleecker Sts,

Ensemble Elektra CDs will be available at the venue


Reviews for the Book of Time
MuzikMan
Jazz Notes
Polityka
Gazeta Wyborcza
WaterfrontWeek
Cosmopolitan Magazine
Rootstown Music
Eclectic Earwig Reviews
All About Jazz
MOTOWN'S WEBSITE review by Paul Autry
John McLaughlin Archive

Interviews

Interview with MuzikMan.